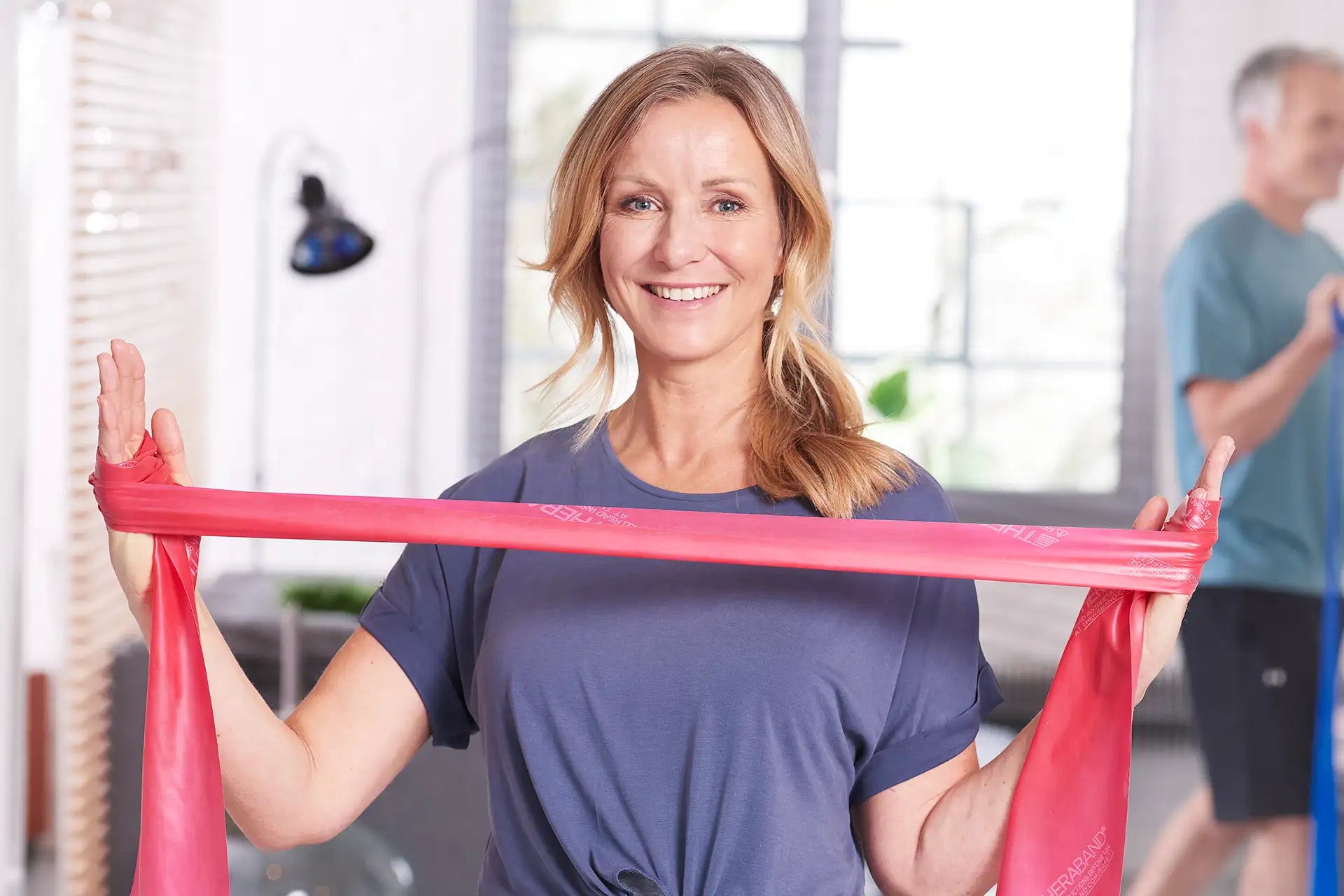 Frequently Asked Questions TheraBand
---
Contents
materials and properties
Application
storage and care
exercises
Miscellaneous
---
materials and properties
The logo imprinted on my TheraBand is suddenly different than before. Is this a fake?
No. The manufacturer has revised the design of its brand logo and adapted the imprint on the TheraBand exercise bands accordingly. The current brand logo is now large on the new bands, as well as a safety notice about the use of the exercise band. Both variants are currently in circulation. Both are the original TheraBand exercise bands.
The old logo (above) and the new logo (below) both prove the authenticity of your TheraBand.
What material is the TheraBand made of?
Thera-Bands are natural products made from pure latex. The material has been provided with talcum/powder after manufacture and should also be treated regularly with talcum/powder during use.
The original TheraBand exercise bands are free of any harmful substances such as plasticizers and the like. Please note, however, that the latex can cause allergic reactions. The product is tested by the FDA (American Food Safety Inspectorate).
Basically, latex proteins are suspected of being able to trigger allergies. The substances contained in the TheraBand fall below all limit values ​​of the Institute for Risk Assessment. The band also complies with the MDR (Medical Device Restriction), which is valid throughout the EU.
In the case of a latex allergy, you will also find latex-free TheraBands in the shop.
What material are non-latex TheraBands made of?
In contrast to the classic exercise bands made of natural rubber (latex), latex-free fitness bands are synthetic resistance bands made of polyisoprene. These are particularly suitable for allergy sufferers.
Why is my TheraBand powdered and what kind of powder is it?
The powder on your band is talcum powder (magnesium silicate hydrate), which is also used in cosmetic products such as baby powder. Small amounts are applied to the TheraBand exercise band during the manufacturing process to keep the latex supple and prevent the material from sticking.
The substance magnesium silicate hydrate used in the manufacture of the powder is a type of talc that is also used in food and is free of any toxins that are considered carcinogenic. Asbestos particles could not be detected in tests.
Please note the internal consumer information.
Do TheraBands contain nitrousable substances?
In a product test by the magazine ÖKO-TEST-Magazine (issue 01/2020), nitrosatable precursors (also: nitrosatable substances) were detected in the TheraBand. These can also occur during complex production (vulcanization process) during the processing of rubber. Traces of it are also found in foods such as fish, beer, cheese and cured products. Tobacco smoke contains large concentrations of nitrosamines. Other products such as toys, balloons, gloves and condoms may also contain nitrosamines or nitrosatable substances. For this reason, the legislator has set the pollutant limits for children's toys in the "Toy Directive 2009/48/EG". The limit values ​​are 0.05 mg/kg for nitrosamines (the TheraBand does not contain them) and 1 mg/kg for nitrosatable substances.
ÖKO-TEST provided us with the exact values ​​of the laboratory analysis of the TheraBand exercise band. 0.26 mg/kg nitrosodimethylamine and 1.1 mg/kg nitrosodibutylamine were found, both nitrosatable substances. The test results are within the EU directive for children's toys that are used for hours and put in the mouth.
What is the resistance and resilience of TheraBands?
The resistance depends on the percent elongation of the product. For example, if you stretch a red exercise band with a starting length of 50 cm to 100 cm, the percentage stretch/elongation is 100%. The graphs below show the force required for this stretch. Elongation of more than 300% should be avoided.
Please note the internal consumer information.
How long can I use a TheraBand exercise band?
The durability of exercise band highly dependent on care and frequency of use. As soon as external damage such as tears, holes, etc. is visible, the exercise band should be replaced. With regular and frequent use, e.g. in physiotherapy practices, the exercise band should be replaced after approx. 1 - 2 months. It is not necessary to state an expiry date since the stretch properties do not change with the age of the exercise band.
Please note the internal consumer information.
Application
Which exercise band is right for me?
In general, with the primary goal of health-oriented strength training, you should be able to repeat an exercise 15 times with the elastic band before you noticeably exhaust the muscles being used. If you can't feel it, you go to the next stronger level. If the exhaustion occurs before that, you can use a weaker band.
Available resistors:
Beige | Very light: 1.1 kg - rehabilitation and reconstruction
Yellow | Light: 1.3 kg - therapy and care as well as in rehabilitation after injuries
Red | Medium: 1.8 kg - therapy and rehabilitation, playful children's training, prevention training
Green | Heavy: 2.3 kg - all-rounder for leisure and sport as well as for advanced rehabilitation and prevention training
Blue | Very heavy: 3.2 kg - Demanding tape for leisure and sport
Black | Extra heavy: 4.4 kg - strength training
silver | Special heavy: 4.6 kg - advanced strength and athletic training
gold | Max. heavy: 6.4 kg - Demanding strength and athletic training for professionals
Please note the internal consumer information.
When should I replace my TheraBand?
Overloading or fatigue of the TheraBand exercise band can be recognized by small, fine white lines forming at the stretching point. External damage such as small tears, holes, etc. also require the strap to be replaced. With regular, daily use, the exercise band should be replaced after one to two months.
Please note the internal consumer information.
What accessories are available for my TheraBand?
In our shop you will find helpful TheraBand accessories such as door anchors, handles, foot straps and much more.
storage and care
What is the best way to store my TheraBand?
To ensure optimal durability and safe training, the exercise band should be stored dry and rolled up in a bag or box after training.
Please note the internal consumer information.
How should the TheraBand exercise band be properly disinfected?
The TheraBand should be disinfected after each use. Alcohol-based disinfectant wipes from Bacillol are suitable for this. These disposable wipes are ready to use on smooth surfaces and medical devices.
The exercise band can also be cleaned occasionally with soap and water. It must then dry completely before it is rolled up or laid down.
How can I clean my TheraBand?
To increase durability, fitness bands should occasionally be cleaned with soap and water, then air-dried and powdered. This prevents "sticking" from residues of sweat and moisture. Please do not use chemical cleaning agents or disinfectants. Standard baby powder, for example, is suitable for powdering.
Please note the internal consumer information.
exercises
Where can I find TheraBand exercises?
In our shop you will find many different TheraBand exercises for all parts of the body such as the back, neck, arms, legs, abdomen and buttocks.
Exercise instructions are also included with each band.
What is the meaning of the note "Skin contact recommended for no more than 3 minutes at a time" on page 2 of the exercise instructions?
The specified 3 minutes is a recommended average value. This is also due to the fact that a training session should be interrupted every few minutes by a short breather.
Miscellaneous
Is the TheraBand a medical device?
Yes. The original TheraBand is a CE-certified class I medical device.
Can I train with the TheraBand if I have back pain, high blood pressure, diabetes or during pregnancy?
In case of pain, illness or pregnancy, please consult medical staff before training.